TGM Contractors
Kelowna based TGM Contractors, a trusted name in the Okanagan and Kootenay's since 1989 and in British Columbia since 1978, specializes in providing residential and commercial clients with industry leading asbestos removal services.
The TGM team is fully trained and insured to meet all BC government regulations ensuring that our clients are fully protected from any liability or health issues related to the removal of asbestos from their homes or commercial properties.
TGM Contractors provides clients with a full range of services covering:
Asbestos Abatement
Pre-Abatement
Mold Removal
Home Renovations
Carpentry
Demolition
Whether you are in Oliver, Nelson, Penticton, Kelowna, or any other location within the Okanagan or Kootenays, when an emergency or time sensitive asbestos removal situation arises, TGM Contractors is available to help you out.
If you have a question or require a quote, please don't hesitate to contact us.
Employers and owners/builders are responsible for the health and safety of workers employed on the site.
They must have a qualified person inspect the site to identify any asbestos that may be handled, disturbed, or removed.
The removal must be done by trained and qualified workers using the proper protective equipment.
-WorkSafeBC
---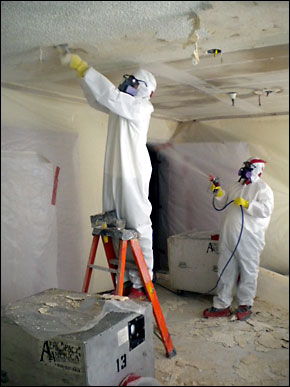 As a Kelowna based realtor, my client's needs are of foremost importance. During a recent sale, a home inspector discovered mould in an attic. TGM Contractors response was immediate and thorough; from the mould remediation to repairing the ventilation and upgrading the bathroom fan exhaust system. Thanks to Tim and TGM Contractors, we were able to move forward as planned.

Tim Mader and his crew – TGM Contractors Ltd. – have worked for Borebank a number of times in the last few years. We have engaged TGM's services for a variety of jobs, including new construction and home renovation work. Tim's work is professional and completed in a timely manner. He shows great flexibility in the often-difficult circumstances of renovation work. I would recommend Tim Mader and TGM Contractors Ltd. without hesitation.